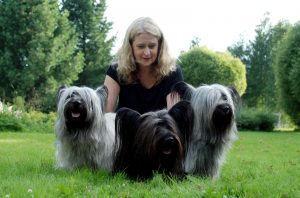 I am Päivikki, the boss-lady of Alfastarsky. I'm part of the Finnish dog breeding association SUKOKA, Finnish Kennel Club, Finnish Terrier association and Finnish Skye Club.
The goal óf Alfastarsky's dog breeding is to raise healthy, social and loving family members.
I wish to build a contact network of animal lovers and Skyen Terrier owners. I keep an active contact to the families that have an Alfastarsky dog, but I also try my best to also reach those without. I offer support and seek answers to questions coming my way.